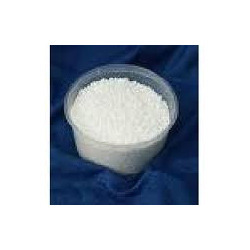 Calcium Nitrate LR/AR
Product Description
Calcium Nitrate LR/AR finds application in formulation of fertilizer and for pre-conditioning in wastewater treatment industries. It is known to have chemical formula Ca(NO3)2 with molar mass of 164.088 g/mol in anhydrous form. This compound appears as white colored granular solid with density of 2.504 g/cm3. It is said to be one of the most commonly used coagulants for latex production and also required in construction industry for settling concrete admixtures. Calcium Nitrate LR/AR decomposes on boiling and has melting point of about 561 degrees Celsius. It is soluble in ammonia and shows insolubility in nitric acid.
Key Features:
Available in white to grey solid particles
Soluble in methanol, acetone and water solution
Emits nitroxide fumes when decomposes
Has 6 pH value in 5% aq. Concentration
Product Details:
Product Name : Calcium Nitrate LR/AR
Chemical Names : 10124-37-5; Calcium dinitrate; Lime nitrate; Norwegian saltpeter; Nitrocalcite
Molecular Formula : Ca(NO3)2 or CaN2O6
Molecular Weight : 164.086 g/mol
PubChem CID : 24963
IUPAC Name : calcium;dinitrate
CAS Number : 10124-37-5
EC Number : 233-332-1
Monoisotopic Mass : 163.938 g/mol
Exact Mass : 163.938 g/mol
Physical Description : White to light gray granular solid
Color : White, cubic crystals
Melting Point : 560°C
Solubility : Very soluble in water; freely soluble in methanol, ethanol, acetone; Soluble in acetone; insoluble in ethanol
Density : 2.50 g/cm3
Decomposition : When heated to decomposition it emits toxic fumes of nitroxides.
pH : 5% aq soln= 6.0
Air and Water Reactions : Deliquescent. Water soluble.